CEAS Essential Employee Virtual Credentials Are Here
The Business Network of Emergency Resources (BNET), America's largest crisis access and recovery solutions provider, is pleased to announce new enhancements to its innovative Corporate Emergency Access System (CEAS.) CEAS is an essential employee identification solution that partners business and government to streamline access and travel management during times of crisis.
"The need for active collaboration between businesses, communities, and government during a crisis has never been stronger than it is today." —Scott Derby, BNET Board Chairman
Participating companies can now issue essential employee credentials just-in-time via smartphone. The new virtual CEAS credential allows users to issue an essential employee credential with just a few clicks, providing maximum flexibility during unexpected events. Originally a pre-event program, CEAS users would preidentify essential employees who were issued physical (plastic) credentials before a crisis occurred. Given the constantly changing landscape of the emergencies that society is facing, the need to be as flexible as possible has become paramount.
The COVID-19 pandemic highlighted that the emergency event itself, in many cases, is a primary driver of which businesses and employees are essential. Being able to respond quickly to a crisis, whether a natural disaster, a technological hazard, a utility outage, or from a human incident, is critical for the safety and resiliency of the community affected by the event.
"With access provisions and essential businesses changing daily, the need to quickly react to a dynamic event was critical for our users and us," said Peter Picarillo, president and CEO of BNET. "In an event like a pandemic, it's challenging to preplan personnel, and we quickly realized our pre-event concept needed a just-in-time component."
The CEAS credential has undergone topographic revisions to emphasize both the essential nature of the holder and provide a more detailed industry description allowing governments additional flexibility in access management decisions. All CEAS credentials can be verified in the field using a free proprietary smartphone app available to law enforcement agencies.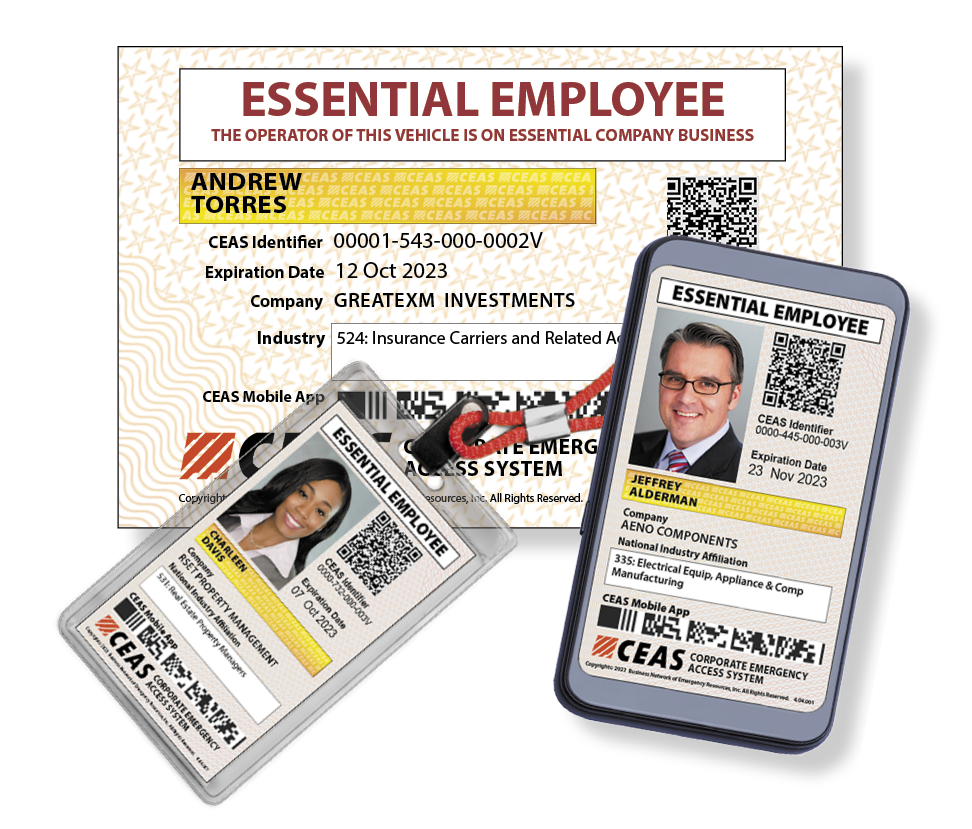 The CEAS virtual credential utilizes commonly available technology. Virtual credentials can now be delivered to anyone with a smartphone. All virtual credentials come with a vehicle dashboard placard that can be printed by the receiver and used to aid travel.
CEAS virtual credentials are here to stay, and so are the original CEAS standard (plastic) ID cards. Users can select from virtual, standard, or a combination of the two to create their ideal crisis response.
CEAS—America's Largest Provider of Crisis Access and Reentry Solutions
BNET has been partnering with cities and their business communities since 2003 to promote business preparedness and community response. Cities partnering with BNET through the CEAS program include New York City, Philadelphia, Buffalo, Baltimore, Stamford, and others. Two statewide programs in Massachusetts and Rhode Island ensure that private sector businesses across the state are ready to step up and support their communities during a crisis. CEAS is an important tool that partners government emergency managers, law enforcement officials, businesses, and communities to be prepared for any unforeseen emergency.
Go to CEAS.com to learn more about adopting CEAS Essential Employee Credentialing for your state, community, or organization.
Contact
Peter Picarillo, President and CEO
Business Network of Emergency Resources, Inc.
888-353-2638 x 1002
CEAS.com
BNETinc.org