Rhode Island Launches CEAS Statewide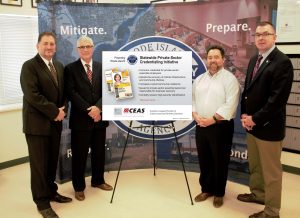 Rhode Island Emergency Management Agency- June 13, 2017 –
Rhode Island launches Corporate Emergency Access System (CEAS) Statewide.
Launch Represents BNET's 2nd Statewide CEAS Program and the First Inter-operable Crisis Event Recovery Access Program Between States
NEWS FOR IMMEDIATE RELEASE
June 13, 2017 by Peter Picarillo
 BNET Press Release 6-13-17 PDF article for download

For additional information about RIEMA, go to www.riema.ri.gov.
Also, follow RIEMA on Twitter at @RhodeIslandEMA;
Facebook (@RhodeIslandEMA; and Instagram (rhodeislandema).