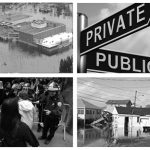 The Rhode Island Emergency Management Agency (RIEMA) has partnered with the non-profit, Business Network of Emergency Resources (BNET) to implement the Corporate Emergency Access System (CEAS) across the State of Rhode Island. This important access program will allow local and state public safety leaders to facilitate entry of credentialed members of the private sector into areas that are otherwise off limits to the public because of disaster or emergency conditions. Access is accomplished through the use of a centrally issued, common credential (CEAS Card) recognized by law enforcement and emergency management officials. Access is permitted when deemed safe and will not interfere with first responder operations.
Why is Private Sector Credentialing Necessary?
The private sector is responsible for operating and maintaining the vast majority of the critical infrastructure that helps our communities function. Many have come to take for granted the most basic essential lifelines (power, fuel, water, money, food, medication, etc.) and assume jobs and resources will always be available. Emergencies can significantly affect the delivery of these services and maintaining the continuity of private sector activity is key to sustaining these lifelines.
This intrinsic connection between government, business and the community highlights the purpose of the CEAS program; which is to help restore normalcy to disaster impacted communities in State by removing obstacles to travel and access that impede the recovery of businesses and the flow of vital supplies, goods and services into affected communities.
CEAS BENEFITS
CEAS provides businesses with a means to maintain critical business processes; stabilize and sustain core IT systems; secure and protect facilities, rescue valuable assets left behind in an emergency; retrieve vital records, hardware and equipment; conduct damage assessments, and much more. If you haven't planned for what you will do if you cannot access your facility, the CEAS program is now available to all of your facilities within the State.
Benefits of a Statewide Implementation
The adoption of local CEAS program in Providence (2004) was an important first steps to recognizing the importance of post disaster, private sector access. State officials recognized the limitations of these programs as many CEAS card holders needed to commute through other cities and towns that did not participate in the program to reach their final destination. Adoption of CEAS as a statewide initiative helps resolve this issue without impacting the local authority to deny transit if necessary. If you are a Providence CEAS card holder your card will automatically be valid across the State and in Massachusetts.
Rhode Island and Massachusetts Programs Now Interoperable
Rhode Island and Massachusetts now share a common, interoperable CEAS program. As the first two State based CEAS programs, users in both States now enjoy interoperable access. This means that Rhode Island businesses with Facilities across the border in Massachusetts can access those facilities with their Rhode Island State CEAS cards. The same now holds true for Massachusetts businesses with facilities in Rhode Island.
CEAS "Always On"




in Rhode Island



Traditionally, the CEAS program has to be "activated" or turned on by government officials before cards would be honored for travel/access. The Rhode Island CEAS program is unique in that the program is in an "Always On" state, giving local officials more flexibility in which to honor the credential locally without requiring a formal  activation and notification process. Police officers can use discretion when accepting the credential for any event at any time if deemed appropriate. Law enforcement officials across the state have access to information and tools at their fingertips to help them implement the program anywhere in the State.