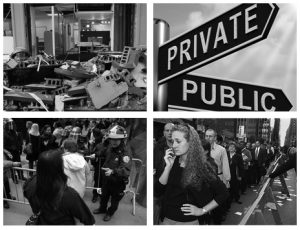 Corporate Emergency Access System (CEAS) is a turnkey pre-event credentialing program, provided at no cost to governments, that allows critical business employees to travel through or gain access to restricted areas following a disaster or serious emergency. Credentialing is done through the use of a common identification card recognized by law enforcement and emergency management officials.
With disasters in the news seemingly on a daily basis, the U.S. Department of Homeland Security has placed a great deal of emphasis on critical infrastructure protection and whole community preparedness. The private sector is responsible for operating and maintaining the vast majority of the critical infrastructure that helps our communities function, such as power, fuel, water, money, food, medication and jobs.
During times of crisis, businesses and governments rely on employees, contractors, and people with special skills who perform specific functions to help maintain critical operations. When these kinds of essential personnel are prevented from traveling to and accessing their facilities, a domino effect occurs which can cause recovery to grind to a halt. What is often lacking is an effective access control policy and process to help these essential employees and contractors perform their duties.
"As a global company, we rely on the CEAS program to help ensure continuity of operations and give us increased confidence in our ability to ensure our  key personnel can keep our critical business processes running." 
                                                          Scott Derby- Assistant Vice President, State Street Bank
CEAS Benefits
CEAS provides businesses with a means to maintain critical business processes; stabilize and sustain core IT systems; secure and protect facilities, rescue valuable assets left behind in an emergency; retrieve vital records, hardware and equipment; conduct damage assessments, and much more. If you haven't planned for what you will do if you cannot access your facility, the CEAS program is now available to all of your facilities within the Commonwealth.
The CEAS Credential is a common, secure identification card available in several different formats depending on the organizations access requirements. Below is a brief description of each credential and its uses.
Standard Card: Is a photo identification card that is issued to a single employee or Essential Service Provider for access to specific facility.  The Standard Card lists the name of the employee and the address of the work location they are authorized to access.
Use Case: Permits a access of a specific employee to a specific facility.
Allotment:  Standard Cards are allotted as a percentage of full time equivalents (FTE's) assigned to the specific facility. Allotment Percentages are determined by the issuing jurisdiction.
Multi-Facility Card: Is a photo identification card that can be issued to a Critical Employee or Essential Service Provider and permits access to ALL Participant facilities within the issuing jurisdiction. The Multi-facility Card is intended for companies with multiple worksites within a given jurisdiction. Multi-Facility card are allotted on a limited basis. 

Use Case:  This credential is designed for use by a single individual whose duties require the need to be able to access multiple companies participating facilities.
Allotments:  Up to a total of 15% of an organizations total card allotment may be allocated as Multi-Facility Cards.
IMPORTANT: Assignment of a single Multi-Facility Card is equivalent to assigning one Standard Card per facility. 
*Multi-Facility Cards are not used in the Massachusetts and Rhode Island programs 
Flex Card: Has no photograph and is intended to provide additional flexibility to the employer by allowing issuance to any employee based on situational discretion. The Flex Card must always be accompanied by another form of government issued photo identification and proof of employment/ affiliation by the firm listed on the face of the Card.The Flex card gains the cardholder access to a single work location (with the exception of the City of Boston, where the Flex card gains access anywhere within the City).
Use Case: This card may be issued on a "just-in-time" basis to any employee not previously a cardholder but determined to be critical due to a current circumstance.
Allotments: Employers may request up to 25% of their eligible Cards to be issued as Flex Cards  (50% in Boston only).  Assignment of Flex cards will reduce the number of Standard Cards that may be issued.
All Area Access Card: A photo identification card issued to individuals affiliated with a specifically defined group of businesses.  This credential provides the cardholder unrestricted access (not address specific) anywhere within the issuing jurisdiction.
Allotments:  Availability and Allotment amounts  of All Area Access Cards are determined solely by government authority after submission of statement of justification by the requesting organization.
*All Area Access Cards are not used in the Massachusetts and Rhode Island programs 
CEAS may be "Activated or Declared" at different Levels by government authority. The matrix below is a guide to what credentials are valid for use during a specific Level Declaration. The individual cardholders ability to travel or access an area is based on the "Access Level" printed on the face of each card.  See the example below.
Note: Your organization's access Level is determined by industry type, not individual cardholder. ALL company cards are issued with the same Access Level.
Important Information About Level "X" : This Level of access is denoted primarily for the purpose of informing organizations that the program is either inactive or the situation dictates that area is off limits to everyone but public safety personnel.
Important Information about Level "A": If Level 'A" has been activated due to ongoing travel restrictions, then ALL CEAS cardholders are authorized (green) to travel.
BNET does NOT issue Level "A" cards

Note: State Programs in Massachusetts and Rhode Island are always active and do not require program "activation" for cards to be valid.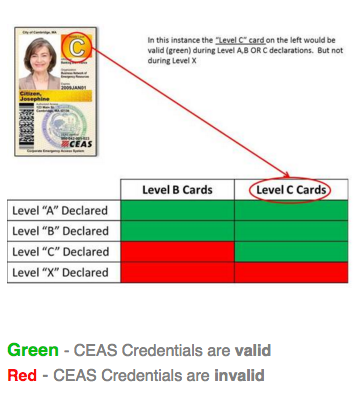 CEAS Programs
To achieve its mission, BNET partners with both governments, public agencies and private sector organizations to improve community resiliency through the sustainability of businesses following a disaster. Recognizing the vital role that private sector businesses play in disaster recovery, BNET helps communities overcome the obstacles to recovery through its critical employee credentialing program. Our partners listed below represent some of the most progressive disaster preparedness organizations in the nation.
How to Enroll
CEAS is available by annual subscription to organizations across the State. Enrollment is simple, affordable and will bring true peace of mind to you and your organization.
To enroll or to learn more about how CEAS can better prepare your organization for the unexpected, contact us at Support@CEAS.com.