The Business Network of Emergency Resources, Inc (BNET) is responding to the COVID19 Pandemic with our CEAS Essential Employee Identification Program. We have responded with operational enhancements to meet the increasing demand for critical access. We are working diligently to process all requests at this time. Click here for Corona Virus iinformation.
Interoperable Essential Employee Identification Solutions for Crisis Response and Recovery
Law enforcement agencies are usually charged with enforcing executive orders and in most cases face the difficult task of deciding who can travel, access, and operate their business in a specific locale. The phrase "essential employees only" is often used loosely by chief elected officials, with little or no definition or means to identify who these people are.
It is the goal of CEAS is to establish a means for private sector employees to identify the individuals who are essential to their company's viability and provide a method for law enforcement agencies to recognize the status of those individuals.
How to Bring the Benefits of CEAS to Your Community
The CEAS program has been used successfully in local, county, and state governments since 2004 to create actionable bonds with private-sector businesses for the benefit of the entire community.
Governments interested in bringing the CEAS Crisis Access and Re-entry Solution to their jurisdictions should contact the Customer Support Center to schedule an introduction to the CEAS program.
A Partnership for Private-Sector, Business Recovery Access
After a crisis, it's crucial for essential employees to gain entry to privately owned and operated facilities to assess damage and initiate restoration and recovery activities.
The CEAS program allows private-sector companies to apply for access cards for select employees, through a partnership with government, identifying them as "essential personnel" during a critical event, providing the ability to travel, enter affected areas, and service critical infrastructure.
How to Enroll Your Organization
Enrollment is simple, affordable, and will increase your organization's disaster resiliency. Countless organizations of all types that take the continuity of services and operations seriously use the CEAS program.
 To enroll, please click on the link to contact the Customer Support Center
CEAS Crisis Response and Access Solutions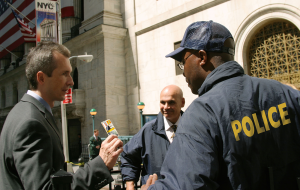 Having a process in place saves time, effort, and speeds recovery.
The CEAS public-private initiative brings government and business together to solve the post-disaster, access-control conundrum. CEAS assists the flow of vital resources and personnel to expedite community recovery. This secure, predefined process allows businesses to restore lifelines and help the community rebound.
Controlled access mitigates damage.
To minimize the economic impact after a crisis, it is crucial to act promptly to allow essential personnel to assess and mitigate damage. Having a planned, controlled re-entry program in place helps prevent the cascading effect of further damage to both businesses and the community.
Access facilitates critical infrastructure and community lifeline recovery.
Emergency access to enter affected areas is necessary to assess and repair lifelines for the community. The CEAS program is an easy-to-use, predefined process that creates a partnership between emergency management, law enforcement officials, and essential private-sector personnel.
CEAS gets the right people to the right places at the right time.
Click this link to find out more about where the CEAS program is available and about our active programs in MD, NY, MA Statewide, NY, CT, RI Statewide, PA and other areas in progress.
Activation Essentials for CEAS Program Members
Since CEAS program activations are infrequent events, the information on these pages is provided to help reorient you with essential information and best practices when using the program.
Learn more about CEAS Activation Levels and what they mean to your company and cardholders.
Helpful hints for program coordinators to prepare your company and cardholders for a CEAS activation.
Helpful hints for CEAS cardholders containing information you should know when using your CEAS card to travel or access a restricted area.
"As a New York-based company located a quarter-mile or less from where three major terror attacks and one earthquake have occurred in the past 25 years, we rely on the CEAS program to ensure that our key personnel, whose roles are vital to the protection of our people, brand, and operations, obtain the access required to support our Crisis Response / Crisis Management teams."
- Joseph Bellomo, Director Security Services, American Express
"The CEAS Program makes it easier for businesses to recover when a major disaster occurs."
- Joseph F. Bruno, Former Commissioner New York City Office of Emergency Management
RHODE ISLAND- Launch Represents BNET's 2nd Statewide CEAS Program and the First Inter-operable Crisis Event Recovery Access Program Between States
Our partners listed below represent some of the most progressive disaster preparedness organizations in the nation.