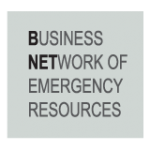 The Business Network of Emergency Resources , also called "BNET", is the result of a Federal, State and private sector study conducted in New York State during 1996-1998 known as the  Joint Loss Reduction Partnership (JLRP). The study's intent was to determine the critical needs of businesses and to identify private sector critical infrastructure industries immediately after and following a major disaster. The study yielded interesting results. Rapid access by essential employees to workplaces and better communications between the government's emergency personnel and the private sector's disaster recovery coordinators were the overwhelming voids that needed to be addressed. Businesses and public emergency managers recommended that programs be put in place to mitigate these cooperation voids.
As a result, the private sector participants of the JLRP along with public sector advisers formed BNET in April 1999 as a non-profit organization to follow through on the study's recommendations. BNET's first objective was to develop an early entry credentialing program based on a common identification card for essential employees of businesses requiring early access to their workplace following an emergency event that resulted in travel or access restrictions. The highly successful Corporate Emergency Access System, known as "CEAS", emerged.
​
Initially piloted and adopted in 2000 in Buffalo, New York, CEAS is now the official early entry credentialing program for businesses that is recognized by government authorities in New York City, Buffalo NY, Boston MA, Cambridge MA, Stamford CT, Philadelphia PA, Providence RI, Baltimore MD and select surrounding counties of these municipalities.